HRGen
HRGen is a Hungarian Human Resource Management software developed to help you achieve full human resource management starting from the recruitment and selection process, through administration of the entrance, through probation evaluations, until training and career plans and their back-testing. The system is capable of transparent tracking of the employee's story, events related to each employee, available with one click, and can be reported.


Follow-up of the recruitment process
A process that can be traced from the first contact to the entrance. We can start a recruitment process for each location and each position, specify the time interval and the labor demand (manpower) for each campaign. The applications can be linked to each recruitment process, status reporting of the recruitment process is available Candidate data can be easily shared through the system with the leaders involved in the selection, even in emails with different languages. The system can track the individual interviewing circles and their results. Candidates can be grouped and posted by the system (rejection, interviews, medical examination).


Database search
Simple and complex search can be done in the candidates' databases. Search also applies to the contents of CVs and labels and notes associated with candidates by HR staff.



50 000+
Processed Resumes

30 000+
Candidates

2 000+
Successfull recruitment
Automatic process of resumes
The contents of the curriculum vitae (PDF, DOC, DOCX, RTF) are processed, indexed and uploaded by the software to the database so that their content can be searched by free word search.


PDF Job ad creation
Pre-defined templates can be used to create job posting documents in PDF format that conform to the corporate image.


Reporting
User-parameterizable reports, pivot tables can be made about applicants, recruitment processes, employee history events.


Performance evaluation
Based on the competency dictionary built into the system, different competencies can be assigned to each job, based on which evaluations - probationary and at fixed intervals - can be recorded. Evaluations can be made on a campaign basis or individually per employee. The results of the evaluation can be reported in the system and can be retrieved afterwards.


Training plans
Training plans for employees can be recorded, and their timing and implementation can be tracked in the system.


Career plans and target tasks
HRGen supports the recording and tracking of employee-related training plans, either premium-specific target tasks can be defined, which are transparently visible in the software.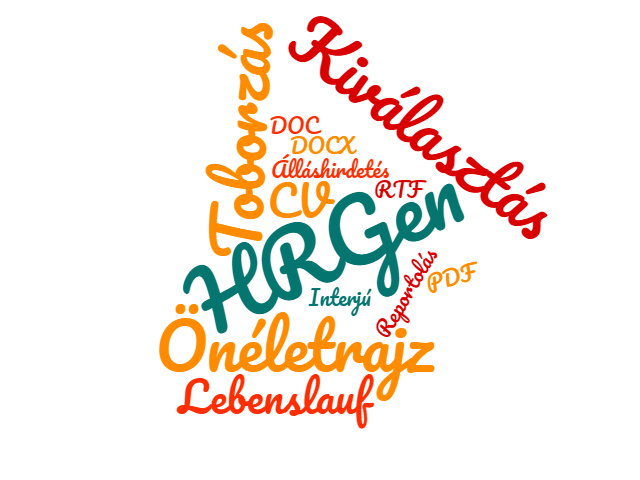 Website and system integration
The HRGen system can be integrated into existing company websites, thus the applications for open positions will be automatically added to the database. Through standard interfaces, the software can be matched to existing ERP and work systems.


Job portal connection
Contact with Profession.hu and other job profiles can be formed, applications through job placements can be directed to the company's own application form filler page.


Operation with multiple companies
With this system, you can manage data from multiple companies at once, each of the announced positions, employees, and organizational hierarchies being tracked per company.